---
---
Di-vestment from fossil fuels may be the only way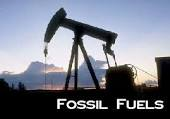 There is a considerable amount of lobbying at the moment regarding dis-investment in fossil fuels.
One of the leading lights here is the 'Guardian' with their 'Keep it in the Ground' campaign. This aims to encourage the world's two largest charitable foundations, Bill and Melinda Gates and Wellcome Trust to divest their all their endowment s from fossil fuels. The campaign has so far attracted over 145000 signatures.
Not surprisingly perhaps there has been quite a bit of resistance to this type of demand. Wellcome Trust so far have declined to change their stance, whilst a number of high profile political figures have questioned this strategy. Lord Smith, former Cabinet minister and chief of the UK Environment Agency has said "we will have to leave carbon in the ground, but leaving all fossil fuels in the ground is for the fairies". He argues that, whilst there is a good case for leaving the dirtiest fuels where they are, continued investment in areas like Gas will help a more effective transition to a lower carbon economy.
This sentiment is pretty much adopted by spokesmen from all 3 leading political parties in the UK. However whilst this point of view may seem sensible many argue that a more radical approach is needed, as we are running out of time and we need to take faster action to reach the required low carbon target. In addition many campaigners believe the Fossil Fuel industry are deliberately using blocking tactics to provide their desired line of argument.
One of these is John Ashton, until 2012 UK's top climate diplomat. He recently wrote to Shell's CEO, Ben van Beurden. This was in response to a speech van Beurden made where he suggested that those calling for 'fossil fuels out, renewables in' were naïve and said provoking a sudden death of fossil fuels was not a plausible plan to tackle global warming. Ashton also challenges Shell's unsupported claim that the economic and moral benefits of providing cheap energy to the world's poor exceeds the risks to the same people from climate change.
Finally Ashton pleads " stop frustrating ambition. Talk to us about how you will play your part in a (clean energy) transition. Tell us the inspirational story of that transition, backed by your knowledge and experience and don't tell us through crocodile tears that this will all take a long time. Tell us what you will do to hasten it.'
So in order to avoid climate change disaster, through following such a conservative approach, many argue the time to act is now! The Divestment campaign was launched last year in the US and now has 800 institutions committed. Among these is the Rockefeller Brothers Fund (RBF), which ironically is governed by direct descendants of John D Rockefeller- founder of the oil empire that eventually became ExxonMobil. The fund has pulled out of coal and tar sands, is gradually withdrawing from Oil and Gas, and has committed to invest 10% in clean energy!
For more information on the Guardian's 'Keep it in the Ground' campaign read the link below
        Guardian 'Keep it in the Ground'
 Future Articles
I welcome your comments on this article.
Also subscribe on my site if you wish to receive future articles